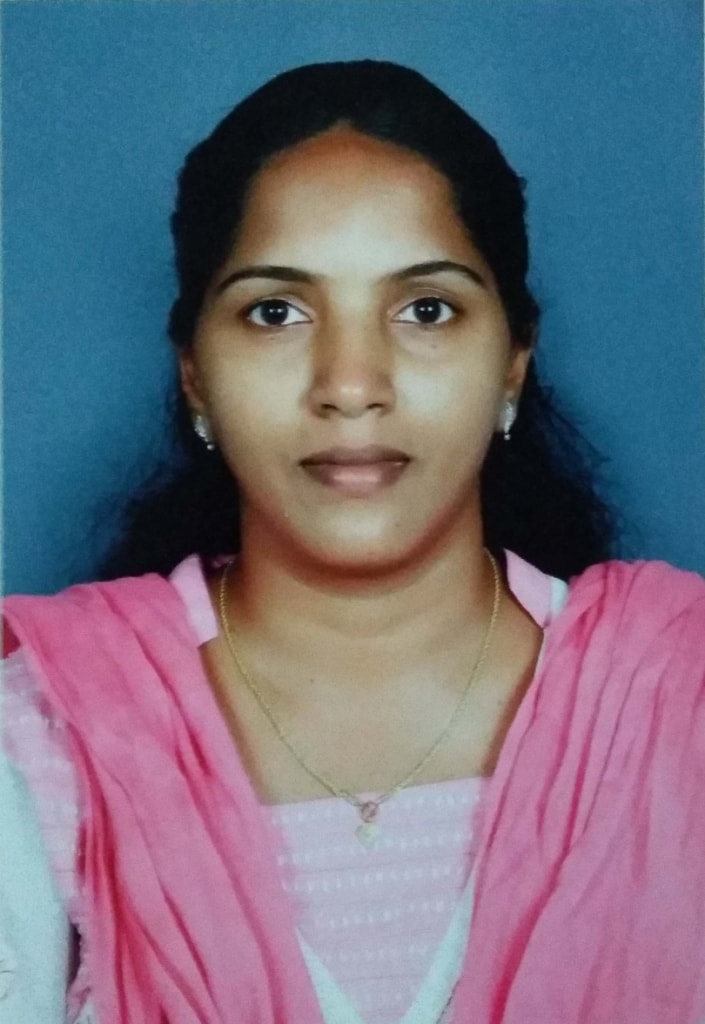 Ambili G K
Scientist & Head i/c, Neyyantinkara Sub Centre
Educational Profile
M.Eng: 2005; Water Engineering and Management, Asian Institute of Technology, Thailand.
Thesis: Application of benchmarking in selected irrigation projects in Malaysia and Thailand
B.Tech: 2002; Agricultural Engineering, Kerala Agricultural University, Kerala
Career Details
2013- Present Scientist, CWRDM.




2000-2013 Scientist B, CWRDM.




2009-2010 Project Associate, IWMI, New Delhi
Memberships
Research Interests
Surface water hydrology
Hydrologic modeling
Irrigation management
Ongoing Projects
CWRDM Plan Funded

Principal Investigator
Budget
Duration
Ambili G K
Rs. 16.60 lakhs
3 Year
Completed Projects
CWRDM Plan Funded

Principal Investigator
Date of Completion
Duration
Ambili G K
01-11-2014
3 Years
Publications
Journal Papers
Girish Gopinath, Ambily G K Jesiya N P and Leemoon K (2016) Hydro-hypsometric analysis of Tropical River Basins, Southwest Coast of India using Geospatial technology, Journal of Mountain Science, Springer Berlin Heidelberg, 13 (5), pp 939-946, DOI: 10.1007/s116299-015-3589-4

Girish Gopinath, Ajith G Nair, Ambily G K and Swetha T V (2016) Watershed Prioritization based on morphometric analysis coupled with Multi Criteria Decision Making, Arabian Journal of Geosciences, Springer Berlin Heidelberg, 9:129, pp 1-17, DOI: 10.1007/s12517-015-2238-0

Balooni, K., Kalro, A.H. and Ambili, G.K., 2010. Sustainability of tunnel wells in changing agrarian context: A case study from South India. Agricultural Water Management.Vol 97. pp. 659-665.

Bharat Sharma, UpaliAmarasinghe, CaiXueliang, Devaraj de Condappa, Tushhar Shah, AditiMukherji, Luna Bharati, G.K. Ambili, AsadQureshi, Dhruba Pant, StefanosXenarios, R. Singh and Vladimir Smakhtin., 2010. The Indus and the Ganges: River basins under extreme pressure. Water International, Vol. 35 (5), 493–521.

Bharat. R. Sharma and G. K. Ambili, 2009. Hydro-geology and water resources of Indus-Gangetic basin: Comparative analysis of issues and opportunities. Review article. Annals of arid zone.48 (3&4): pp. 1-31.

Balooni, K., Kalro, A.H. and Ambili, G.K., 2008. Community initiatives in building and managing temporary check-dams across seasonal streams for water harvesting in South India.Agricultural Water Management.Vol 95, pp 1314-1332.
Conference Proceedings
Ambili G. K., K. MadhavaChandran, K. T. Zabeera and K. K. Anju (2014).Opportunities for Improving Performance: A Case Study in Vellanur Minor Irrigation Scheme, Kerala. Proceedings of the Fourth International Conference on Hydrology and Watershed Management (ICHWAM-2014), October 29-November 2, 2014.

Ambili G. K., K. MadhavaChandran, K. T. Zabeera and K. K. Anju., 2014.Performance Evaluation for Water Management in a Minor Irrigation System. Proceedings of International Symposium on Integrated Water Resources Management (IWRM-2014), February 19-21, 2014, Vol.2, pp 1023-1029.

Ambili G K, 2010. A seasonal approach to Irrigation System Benchmarking. Paper presented during HYDRO-2010. National conference on Hydraulics, water Resources, coastal and Environmental Engineering, 16-18 December, 2010 at Maharishi Markandeshwar University,-Mullana, Ambala Haryana.

Bharat R Sharma and G K Ambili, 2010.Impact of state regulation on groundwater exploitation in the hot-spot region of Punjab. Paper presented at the Conference, "Toward Sustainable Groundwater in Agriculture, June 15-17, 2010, at University of California, Sanfransisco.

Bharat R Sharma and G.K Ambili. 2010. Impact of climate change on water resources and potential adaptations for agriculture in the Indus-Gangetic basin. Paper presented during ICID 60th IEC Meeting and 5th Asian Regional Conference, 6-11 December, 2009, New Delhi, India.
Research Reports
Books and Monographs