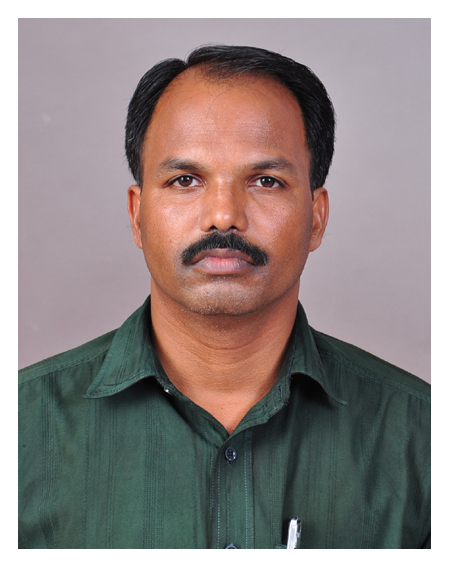 Chandran Kolappadan
Technical Assistant Gr 4, Surface Water Division
No Project details entered....
Publications
Journal Papers
Celine George, Chandran Kolappadan & E. G. Soman, (2004), "Drought Estimation Through Rainfall Analysis For Odakkali Region in Kerala State", Journal of Applied Hydrology , Vol. XVII, No. 2 & 3, April & July 2004, pp 47-51.

Celine George and Chandran Kolappadan (2002) "Probability Analysis for Prediction of Annual Maximum Daily Rainfall of Periyar Basin in Kerala" Indian Journal of Soil Conservation, Vol 30, December 2002.
Conference Proceedings
Abdulla P K, Dinil Sony C, Chandran Kolappadan, Rajeev P C and Anil M T (2014), Impact of Manual Dredging of a Minor Port at Ponnani, in Kerala, Proceedings of the International Symposium on Integrated Water Resources Management (IWRM 2014), February 19-21, 2014 Allied Publishers (ISBN 978-81-8424-907-1) Vol.I pp 500-508

Abdulla P K, Dinesan V P, Susanth C M, Chandran Kolappadan and Rajeev P C (2011), Tidal Effect on Water Table – a Case Study on the Thuruthu in Kochi Backwater, Proceedings of National Conference on Hydraulics and Water Resources (HYDRO) at Surat, 29-30 December 2011, pp 1201-1207 on CD.

Abdulla P K, Dinil Sony C, Chandran Kolappadan and Pramod C V (2011), Composition of Sand in the Sediments of Malampuzha Reservoir, Kerala, Proceedings of the National Seminar on Mining of River Sand and Its' Impacts on the Environment, 18-19 February 2011, Kozhikode, pp 65-74
Research Reports