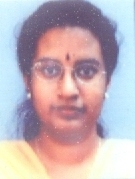 Dr. Resmi T R
Scientist & Head i/c, Isotope Hydrology Division
Educational Profile
Ph.D : 2006; Department of Chemical Oceanography, Cochin University of Science and Technology, Kerala, India
Thesis: "Hydrogeochemical Evaluation of Inorganics and Bio-organics in Selected Aquatic Environments"
M.Sc : 1998; Hydrochemistry; Department of Chemical Oceanography, Cochin University of Science and Technology, Kerala, India
Career Details
2011- Present Scientist, CWRDM.




2007-2011 Scientist B (On contract), CWRDM.




2006-2007 Ad Hoc Lecturer (St. Mary's College, Thrissur)
Memberships
Member, Society of Aquatic Chemists
Research Interests
Isotope hydrology




Hydogeochemistry




Wetland studies
Ongoing Projects
CWRDM Plan Funded

Principal Investigator
Budget
Duration
Dr. Resmi T R
Rs. 14.76 lakhs
3 Years

Principal Investigator
Budget
Duration
Dr. Resmi T R
Rs. 17.00 lakhs
3 years
Completed Projects
CWRDM Plan Funded

Principal Investigator
Date of Completion
Dr. Resmi T R
03-12-2011
Publications
Journal Papers
Shahul Hameed, A., Resmi T R., Suraj, S., Unnikrishnan Warrier, C., Sudheesh, M., Deshpande, R.D., 2015. Isotopic characterization and mass balance reveals groundwater recharge pattern in Chaliyar River basin, Kerala, India. Journal of Hydrology: Regional Studies, Volume 4, pp. 48–58.

R. Santhosh Kumar, Girish Gopinath, T.R. Resmi (2014) Groundwater Chemistry of an Urban Coastal Aquifer- Kerala, India. Journal of Coastal Sciences, Vol.1 (2), pp.20-25.

Girish Gopinath, Resmi T R and P Seralathan (2013). Assessment of groundwater quality in Kavaratti island in the Lakshadweep Archipelagos, India, Chemistry and Ecology, Vol. 29 (4), pp. 309-319; DOI:10.1080/02757540.2012.760546

Girish Gopinath and Resmi T R (2011). Evaluation of Groundwater Chemistry of a Central Kerala River Basin, India using Multivariate Analysis. IJES, Vol. 3, pp. 119-126.
Conference Proceedings
Girish Gopinath, Resmi T R, Praveenbabu M, Shahul Hameed A, Sunil P S and Rahul Rawat. 2014. Ionic Composition of a High Altitude Lake— the Schirmacher Oasis, East Antarctica. Proceedings of the International Symposium on Integrated Water Resources Management (IWRM–2014) February 19–21, 2014, CWRDM, Kozhikode, Kerala, India. pp. 717-722.

Resmi T R and Jacob Chacko, 2014. Multivariate Correlations of Heavy Metal Binding Phases in Varied Aquatic Environments. Proceedings of the International Symposium on Integrated Water Resources Management (IWRM–2014) February 19–21, 2014, CWRDM, Kozhikode, Kerala, India. pp.509-519.

Resmi T R, Sudharma K V, Shahul Hameed A (2014) Chemical and Isotopic Signals of a Tropical River in Kerala. Proc. of the 4th International Conference on Hydrology and Watershed Management (ICHWAM-2014), Hyderabad, India. pp. 560-567.

Shahul Hameed A, Resmi T R, Deshpande R D, Praveen Babu M and Sudheesh M. 2014. Spatio-Temporal Variation of Stable Isotopes in Precipitation and Ground Level Vapour in Kerala. Proceedings of the International Symposium on Integrated Water Resources Management (IWRM–2014) February 19–21, 2014, CWRDM, Kozhikode, Kerala, India. pp. 26-36.

Suraj S, Resmi T R and Shahul Hameed A. 2014. Evaluation of Groundwater Chemistry of Shallow Aquifers of Malabar Region, Kerala with respect to Physiography. Proceedings of the International Symposium on Integrated Water Resources Management (IWRM–2014) February 19–21, 2014, CWRDM, Kozhikode, Kerala, India. pp.363-372.

Girish Gopinath, Shahul Hameed, A., Resmi T.R., Prgath, M., Ashitha, M.K., Seralathan, P., 2013. Groundwater chemistry along coastal and inland aquifers of Tuticorin district, Tamil Nadu, India. Proceedings of the International Conference on Integrated Water, Waste water & Isotope Hydrology ICE-WWISH -2013, July 25-27, 2013, Bangalore University, Bangalore, pp. 23-28.

Resmi T. R., Sudheesh M., Vimala T. and Shahul Hameed, A., 2013. Quality evaluation of coastal shallow aquifers using chemical and isotope systematics. Proceedings of the International Conference on Integrated Water, Waste water & Isotope Hydrology ICE-WWISH -2013, July 25-27, 2013, Bangalore University, Bangalore, pp.21-29.

Mrudulrag, S. K., Sui, A. S., Resmi, T. R and Shahul Hameed, A., 2012. Water Quality Variations in the Shallow Wells and Streams of Neyyar River Basin, Kerala, Proceedings of the National Seminar on 'Sediments and sedimentary rocks: Resource potential Depositional processes, its Implications to the ecosystem and environmental changes', December 18-21, Pondichery, India, p.121.

Shahul Hameed, A and Resmi T. R., 2012. Origin of pollutants in the coastal shallow aquifers of an urban environment–Investigation using ionic and isotopic ratios. Proceedings of the 2nd International Conference on Water Quality, WQ-2012, 19-21, September, HangZhou, China, pp.26-30.

Shahul Hameed, A., Resmi, T.R., Suraj, S.S., 2012. Estimation of groundwater by rain in a tropical river basin using stable isotope technique, Proceedings of the Vth International Groundwater Conference (IGWC 2012), 18-21 December, Aurangabad, India, pp.138.

Girish Gopinath, Resmi T R and Santhosh Kumar, R. 2011. Evaluation of groundwater quality in coastal aquifers of Central Kerala. Proc. of the National Seminar on Coastal Hazards, Resources & Management, Mangalore University, Mangalore. Abstract Volume, P.28.

Resmi T R (2011). Isotope Fingerprinting of a Tropical River Basin using Isotope Systematics. Proc. of the 23rd Kerala Science Congress, CESS, Thiruvananthapuram, pp.103.

Soorya, V.C., Manjula, P., Unnikrishnan Warrier, C., Resmi, T. R. (2010), Geochemical Studies Of Groundwater In Thutha Sub Basin Of Bharathapuzha. Young Environmental Researchers Conference, CWRDM (March 22-23, 2010) Abs. Vol. p. 3
Research Reports
Books and Monographs